---
253RD USASA DETACHMENT
LINKOU
THE YEARS 1956 THRU 1958
"BOOT CAMP TO THE HILL AND BACK"
By FRANK FREDO
FRANK638@aol.com

---
Preface
According to Frank: "Shortly after I arrived at Linkou in 1956, and I don't know why, our unit designation got changed to the 253rd USASA Detachment and remained that for as long as I was there. I have really opened up my memory data bank, hope I don't bore you with my story. However I do have black and white photos that were scanned for this page and found below (click on each to enlarge) following my story." Frank also commented after comparing the circa 1970 photos and stories to his time on Taiwan: "I was looking at your pictures on the website, and was amazed at how Taipei had grown. We used petty cabs for transportation, very few cabs available. Club 63 was open, but we couldn't afford to eat there. We did use the pool a few times. That was the only pool available to the military. We frequented a street loaded with bars called Sin Alley, and the favorite bar was the Black Cat Bar. Your buildings at Shulinkou were modern structures whereas ours were archaic. But that was how it was in the 50's as shown by my pictures."
Phantom Note: While Frank was compiling his history for this page, it rekindled memories of his friends with him at Linkou. In particular, the other two "Amigos" of his threesome. Well, fifty years later he has located and is now back in touch with them. Joe Jenkins in PA and Wesley Shaw in TX. Photos of the three can be seen following the text below.
Below is a photo of Frank manning the .50 cal. machine gun emplacement at what was later to be named the Hou Keng installation. It was located at the far end of the former Japanese Air Force runway at Linkou. The site overlooked the Taiwan Strait and the beaches below where the Chicoms were expected to invade the island. (Webmaster: Doesn't look like Frank was too concerned about the Chicoms overrunning his postion.) Second photo shows Frank's unit of about 20 men in front of their barracks. It was a formation of the 253rd for an award ceremony presentation for one of the guys for doing good work. That was the only formation of that type while I was there. As Frank stated: "It was rare to have us all stand in formation, and of course a few were missing who were working at our site."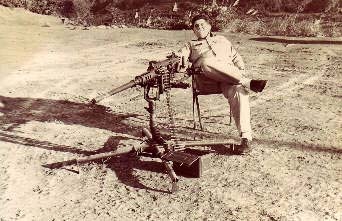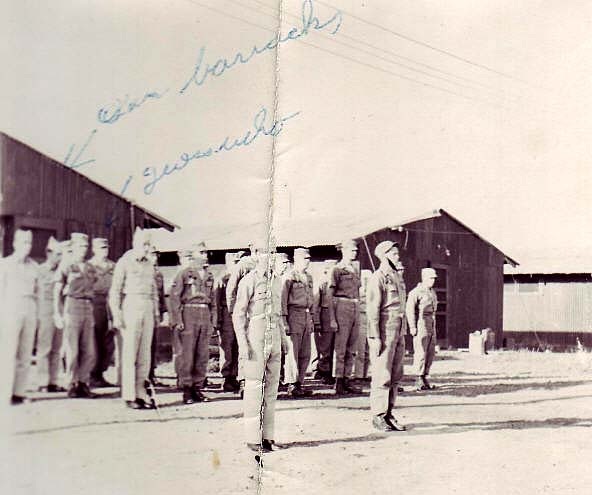 (Click on Photos to Enlarge)
---
Frank's Army
I enlisted in the army December 12, 1955 at age 17, as a Pvt. E1 I was sent to I Company, 365th Infantry Regiment, 69th Infantry Division for 8 weeks of infantry basic training at Ft. Dix NJ. Everyone who enlisted or was drafted into the army took the same infantry basic training for the first 8 weeks, the so called second eight was in whatever school or job you were being assigned to, for some poor buggers, mostly draftees, it was advanced infantry tactics. Toward the later part of my basic, we spent two days bivouacked in crummy little two man pup tents with another soldier. It was a fierce winter and we froze our asses off sleeping on the ground with the sleeping bags they gave us which turned out to be sleeping bags liners, a GI wool blanket with a zipper formed into a sleeping bag. I have never been so cold in my entire life. Couldn't sleep, just laid there and shivered all night. Food was served in our field mess kits with some of it freezing before we could eat it. Kind of made me think of the 101st Airborne in Bastogne during the Battle of the Bulge, of course we only had to endure two days and no one was shooting at us. The entire time was spent outdoors in the snow, rifle ranges during the day and at night shivering.
After 7 weeks of basic I got up one morning and discovered blotches all over my face which turned out to be measles. Spent the next week in the hospital. When I got out I was sent to another company to finish the last week of basic. I did nothing but lay around the barracks all day. It was at this point I took a battery of tests to see what I was qualified for as my permanent MOS (military occupational specialty). I passed the exam for OCS, officer candidate school, but was not 18 years old yet, which was the minimum age for OCS. It was decided that I possessed an aptitude for electronics and was assigned to Counter Measurer Search and Analysis Specialist School at Ft. Monmouth NJ in the Signal Corp, no more infantry for me. This was my MOS for the rest of my time in the Army.
After a two week furlough at home, I started my training at Monmouth, Signal Corp School, for 16 weeks electronics training in my MOS, while in school I was granted a cyypto/top secret clearance. The FBI was doing a background check on me back home with all my friends, high school teachers and employers, they all said, "Oh no, what has Fredo done now!!!???" I was kind of a wise guy as a teenager.
Late summer of 1956 we departed from Ft. Lewis WA. On The USNS General Edwin D Patrick for few weeks cruise across the Pacific. One of the guys had to use the head but it was before inspection was complete, no one was allowed in the interior of the ship so we all had to remain on deck. One individual, who shall remain nameless, had to go to the head real bad and was cramping up in a great deal of stress and discomfort. He wound up crapping in his pants. He took them off tied a rope through the leg and threw them over the fan tail and let the ocean do his laundry. They came out clean but kind of stiff from the salt.
Earl Luce, another Ft. Monmouth man, had just been issued a new set of false teeth. He was leaning over the rail chatting with a female teenage dependent who was leaning out of a port hole below him. While chatting, he got excited and his new choppers fell out of his mouth and into the deep six. He wanted to jump over board to try and get them; we had to restrain the poor guy.
We consisted of a group of about 10 headed for the Far East. Some went to Korea, some to Hokkaido Japan and a few of us went to Taiwan. Arrived at Yokahoma Japan for 7 days before being flown to Taiwan. I was disappointed after learning that my unit 10th Signal Corp Detachment had been taken over by the ASA and was moved in with the 176th at Linkou. Previously the unit was living the high life in a hostel in Taipei with per-diem; my rank was Pvt. E2, soon after arriving I was promoted to PFC, private first class.
We spent 6 days in Tokyo enjoying the Ginza Mart and the local ladies before flying to Taiwan. From Japan we flew to Taiwan with a stop at Okinawa. Arriving at Taipei airport we were met by someone from the 253rd and made our first of many trips to "The Hill" and so started my experiences in the 253rd. The following stories were a small part of my experiences on Taiwan;
We frequently signed out jeeps and went touring all over our part of Taiwan, for the most part these were dirt roads, not much paving outside of Taipei and other big cities. The beaches were a favorite destination. On one occasion Frank Johnson and I were driving along in the middle of nowhere, just rice paddies and tea fields when we spotted this building which looked like a small compound of some type all fenced in. We pulled up to the gate and were met by German nuns dressed in habits like Sally Fields wore in the Flying Nun. They admitted us into the compound to meet their mother superior and served us tea and cookies. We were able to communicate with them in spite of their heavy German accent. It turns out it was a Leper Colony, man I wanted to spit out those cookies, but behaved like a gentleman representing the US Army. We thanked them for their hospitality, but declined a guided tour of the rest of the compound saying we were due back at camp.
There was no television on Taiwan while I was there. The 176th did have a small time radio station that was carried through the wiring system in camp. Jim Paris of Chicago was company clerk for the 176th and a friend of mine, he invited me to be one of the DJ's and I went by the name of Msgt. Punch Pannero, don't ask me where that came from. We broadcast music provided by Armed Forces Radio and some comedy shows like The Jack Benny with Rochester, Dennis Day, and Don Pardo. We got a big laugh out of their antics. You had to have a fertile imagination to get the benefit out of transcribed radio shows. I had that from growing up in the era before TV. We used to sit on the floor in front of the console radio listening to Inner Sanctum, The squeaking door sent shivers through us. Also Your Hit Parade music show, The Shadow, "The Shadow Knows, with the evil laugh" and on Saturday morning The Buster Brown show, "Hi I'm Buster Brown, I live in a shoe (dog bark) and that's my dog Tide he lives there too". I'll never forget that intro line as long as I live. Back to the radio station, we also played a lot of music from records that we had, one of my favorites was, Art Van Damme, he played a Jazz accordion with a quintet in the 40's and 50's. His rendition of " I let a song go out of my heart ", was my theme song that that I played a bit of at my sign on. We also had a hatchet on the wall with the comment "The Elvis Smasher", painted on the handle. It was used to smash any Elvis records we received. Elvis was so adored by all the young girls that we were jealous of him. Later on we learned to appreciate his talent and the smasher was retired.
On morning, while on an overnight pass in Taipei I awoke with a severe pain in my private region. I went to the Navy hospital in the MAAG compound but would not be admitted or even looked at because I was from Linkou. I was forced to climb into the back of an army deuce and a half truck for the 16 or so mile ride over bumpy dirt roads to the Linkou dispensary. I thought I was going to die from the pain. The medic checked me out and diagnosed kidney stones. He put me in an Army ambulance for the ride back down the hill to the same Navy hospital and was finally admitted. A week of a pain pills and a tiny arsenic pill every 4 hours was the treatment to dissolve the stone plus bed rest. I wasn't the only one with kidney stones, guess it was common. Anyone who has ever had kidney stones can appreciate the pain.
I extended my 13 month tour of duty on Taiwan for an extra one year for a multi fold purpose. First I was promised a promotion to Staff Sergeant if I stayed. Secondly I did not want to be assigned to Ft Huachuca, Arizona where all who went back to the states were re-assigned. Another fringe benefit was, if you hit the states with 90 days or less in your enlistment, you were eligible for immediate discharge. I was required to serve out my last 85 days but was able to choose any post I wanted to spend my last days in the Army. Ft. Devens MA was closest to home so that is where I asked to be assigned. However, it was just my luck that back in Taiwan the Chicoms were shelling Quemoy and Matsu, the two islands between the Chinese mainland and Taiwan that were occupied by the Nationalist China Army. The Army thought they might have to extend my enlistment and ship me back to Taiwan. All I could think was there goes my early discharge out the window. This did not come to pass. That aside, I had accumulated a lot of leave time by not taking any R&R in my 25 months on The Hill in Taiwan. I thought I would get paid for it upon discharge, but was so angry about not getting my early discharge that I used up all my leave and went home. Only to return to Devens for my discharge when my leave was used up. That had a lot to do with my decision not to re-enlist which I had seriously considered. I could have probably got promoted to Sergeant First Class if I did re-up. Wish I had stayed in for twenty and a nice pension at age 37. Oh well, hind sight is a wonderful thing.
To add insult to injury, I was informed that after my discharge I would be assigned to an Army Reserve unit in West Hartford, CT for weekly drills, for a period of one year. Our military obligation in those days was a combination of 6 years, three active army, and one year active reserve attending weekly drills and a one week summer encampment, and two years stand-by reserves. With my electronic background, I was assigned to a Nike site in Cromwell CT for my one week summer encampment. I was still upset about the deal the army handed me that I was the biggest goof off you have ever seen. After two days of the summer encampment, I was granted permission to visit my girl at the beach where her family had a cottage. On the last day of the week the MP's picked me up there. I told them I had a re-occurrence of kidney stones that I did actually have while on Taiwan. They took me to an old quack doctor who examined me. I knew when to winch when he pressed the right spot, what an actor. I convinced him that I was getting better but still in pain. He prescribed Demerol, a powerful narcotic for my alleged pain. I disposed of that in the toilet as soon as possible.
After my one year in the reserves, I was finally separated from active duty with two years of standby left in my over all obligation.
During the Cuban missile crisis, I received a letter informing that I might be re-activated. I raised so much hell, that they re-considered and reclassified me to "not available for activation." The same letter was sent to my old buddy Tony Breau from the days at Ft. Monmouth and on the hill in Taiwan. He did not extend his overseas tour and duty on Taiwan, and truly regretted it. We speak on the phone every couple of years to talk about old times.
There were many other incidents that happened, but I'm sorry to say that my memory is not what it used to be. Afterall, it has been almost 50 years since I was there. Please enjoy the photos that I took at Linkou some 50 years ago. (Click on each to enlarge.)
---
Frank Fredo a.k.a. Msgt. Punch Pannero
(Click on Photos to Enlarge)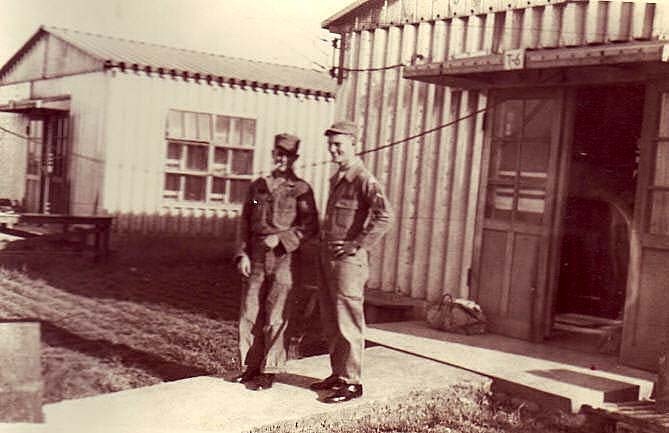 John Pike from Poughkeepsie NY on left. I can't remember the name of guy on the right. The shot shows the front door to Bldg T6, that was our barracks.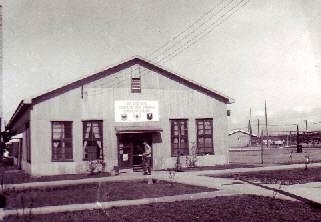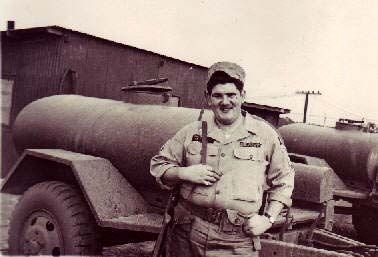 Front door to the club. Our water tankers at work site. Bldg in back is old mess hall.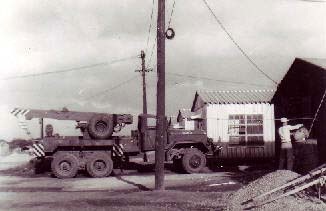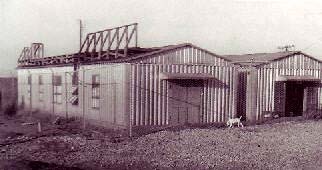 Crane truck belonged to 176th. It was useful for pulling our vehicles after sliding off the road and into the rice paddies as we went up and down the Hill. New building at work site, on left was maintenance and the other was operations. They were connected on the other end making for a kind of square U shaped building.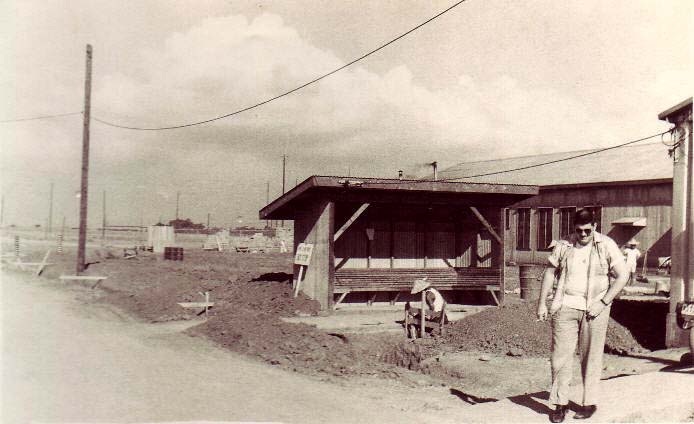 Kicking a stone in back area of barracks. Building with seats was bus stop for guys waiting to go to Taipei. Laborers were digging drainage trenches to handle water during rainy season.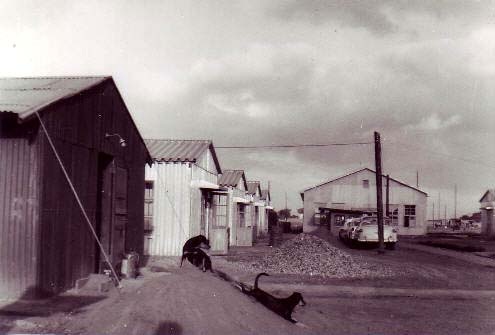 Building on the left was rear door to our barracks notice it was OD, old style, and some of them were newer style. Notice the tie down cables for Typhoon protection. I hope I have made it clear that that was the only building that was ours, every other building in camp was the 176th. Navy and Air Force were separate entirely and not shown in any of my photos. We did socialize in the club with all branches. The dogs playing in the pile were ours, we had several dogs as pets but had to keep a sharp eye on them because the Chinese or Taiwanese would eat them. One of them in the picture was named Bitchie.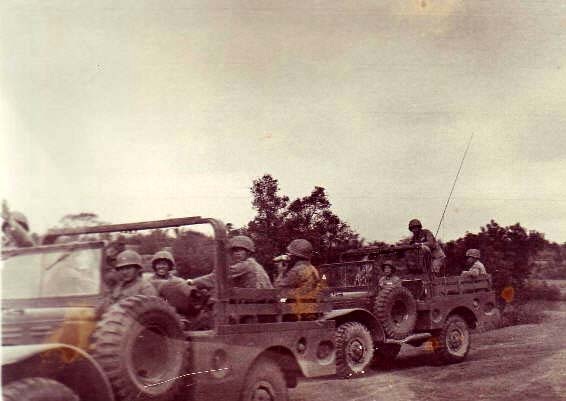 Some Chinese Nationalist troops in WWII/Korea era 3/4 ton weapon carriers that were given by the US to them.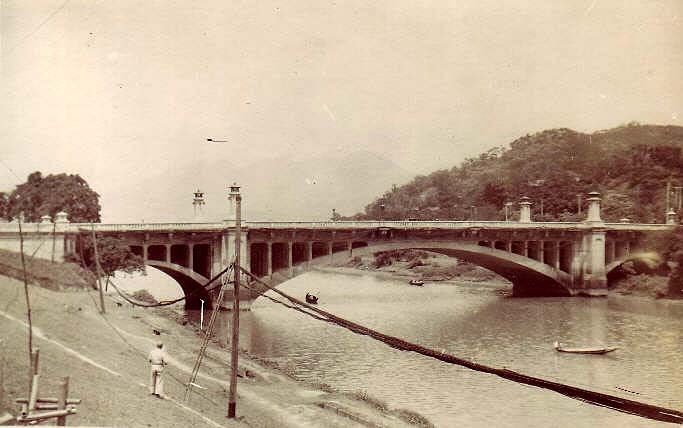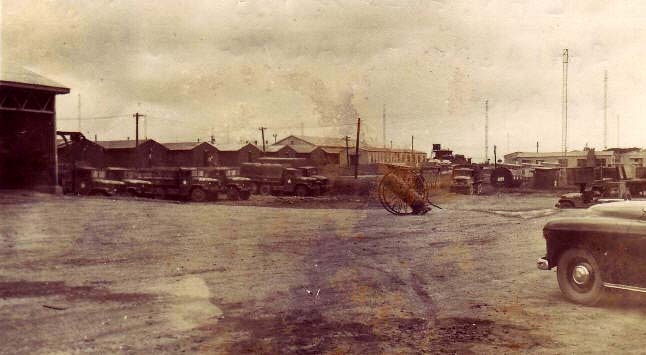 Bridge over the Keelung River on Chungshan N. Road near the 63 Club. The 176th motor pool with the mess hall in the far rear.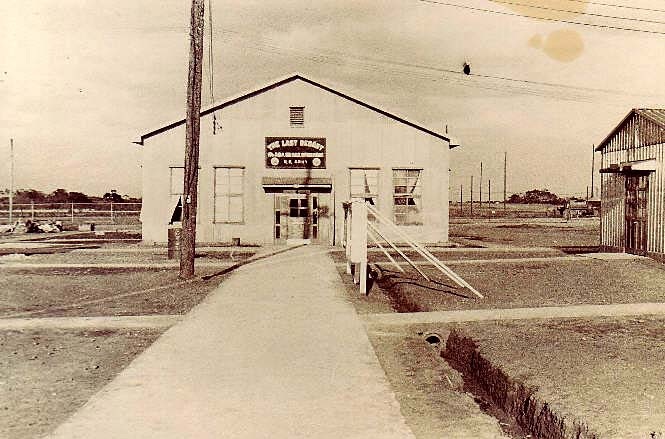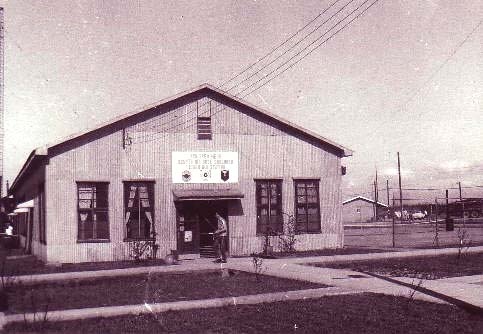 The club when it was first opened, notice the sign says "The Last Resort'. The building on the right was the orderly room with the bill boards out front. I think the club after it was renamed was referred to as an Army, Navy, Air Force club. Notice the building in the rear that were not there in prior photo.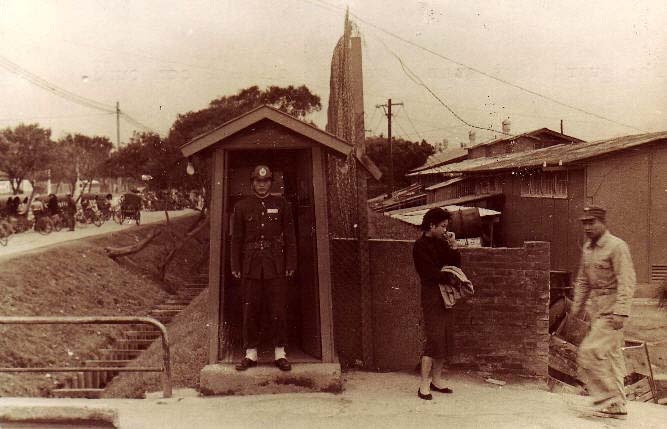 The guard at the gate to the Maag compound. Notice all the petty cabs waiting for passengers.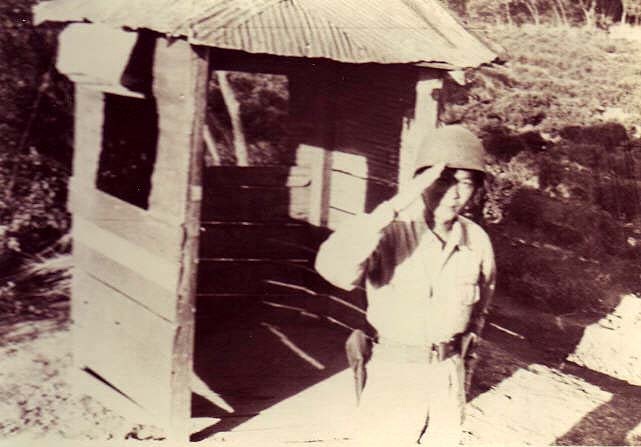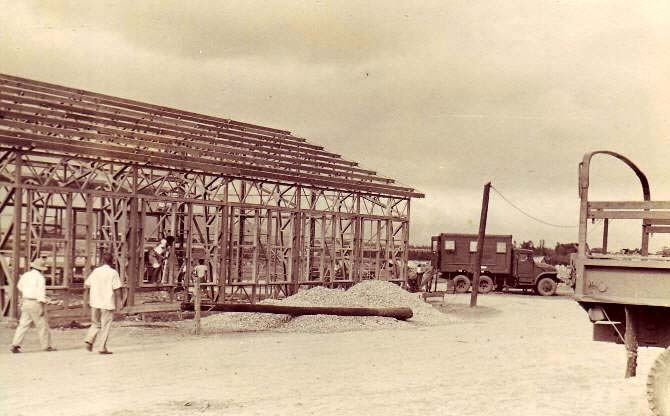 Guard at entrance to our work site, he was saluting me because I was a staff sergeant at the time and they salute NCO's in their army. The 176th motor pool under construction.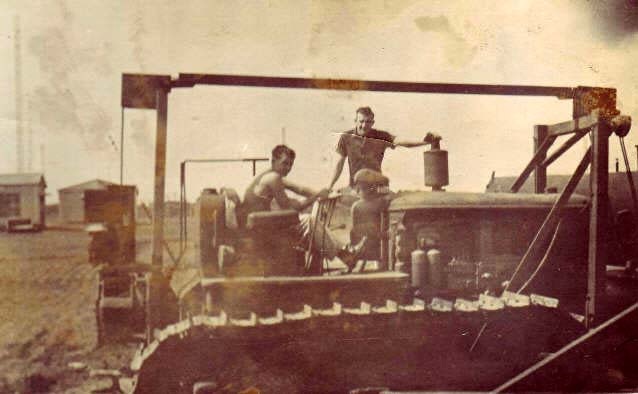 Wesley Shaw from Dallas Texas on the left and Joe Jenkins from PA. on the right. They were my very best buddies. We were the three amigos.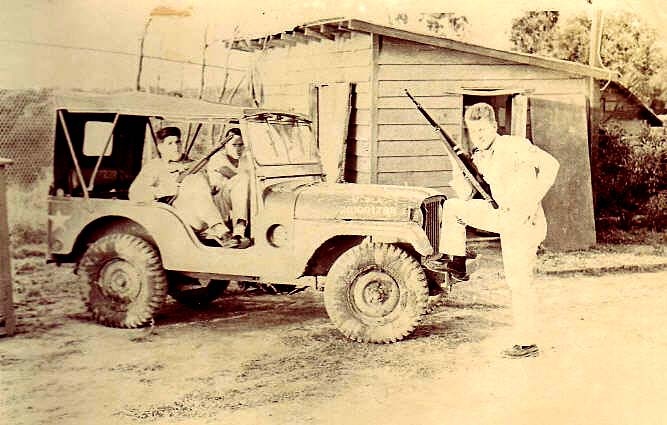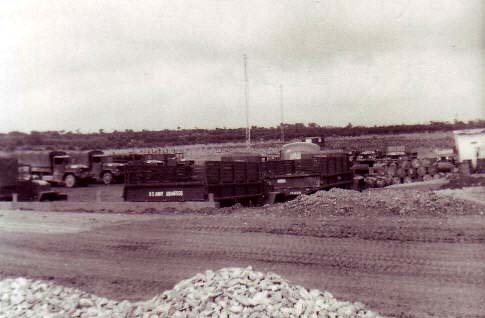 Me sitting in the passenger seat, Al Fassler from New York City with his foot on the bumper. Behind the wheel of the Jeep is Fred Monk from the equipment maintenance section. I know it's hard to believe but the building was the orderly room at the work site in the early days. Not much to look at but it wasn't used that often. It only held a desk a few chairs and file cabinets. Early shot of the 176 motor pool. The piles of stone indicate that was the period when construction was going on revamping the camp.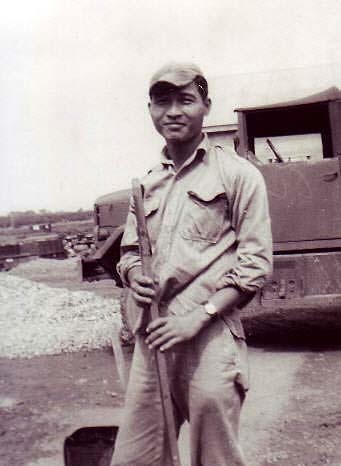 Ling our house boy, he kept the barracks clean, shined all our shoes and boots and made the beds. Big job for one individual, we all chipped in to pay him.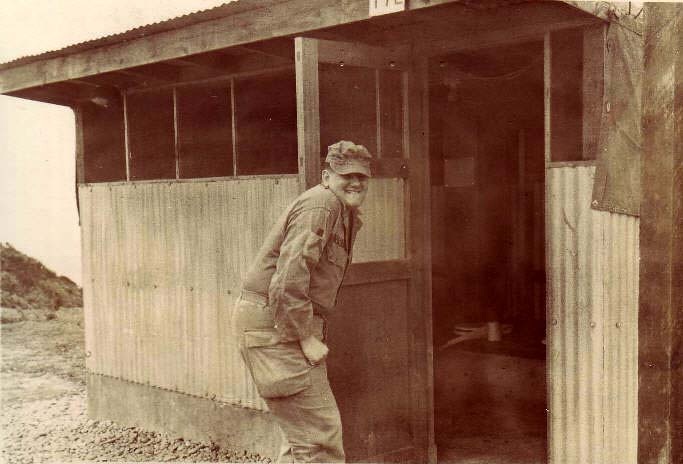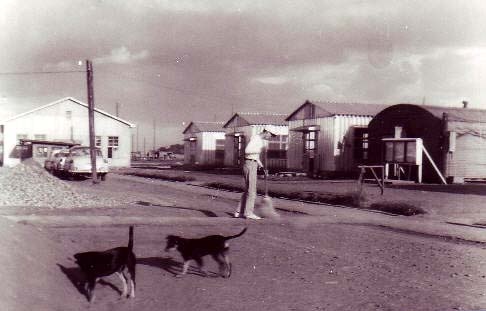 Me, with a case of the Taiwan trots racing for the latrine. Bitchie and her sister.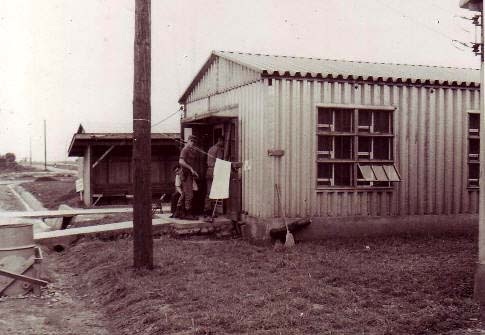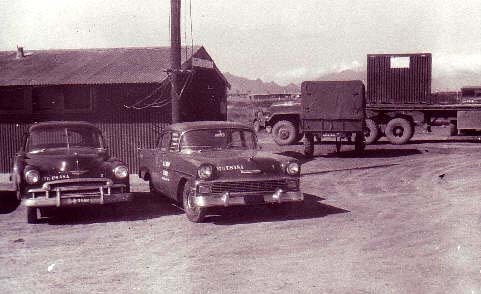 Looks like Paul Dotson from Florida going in the building. These two Chevys were shipped to the 176th for the officers to use. They didn't get used very much.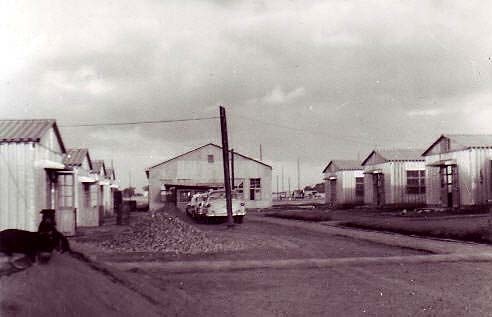 A shot of the Company street.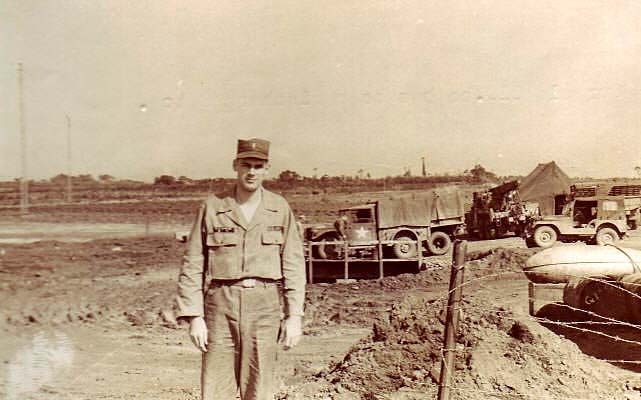 One of the Company officers. I am having trouble remembering his name.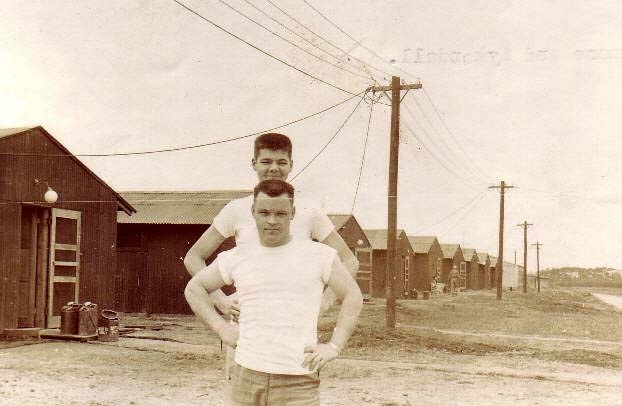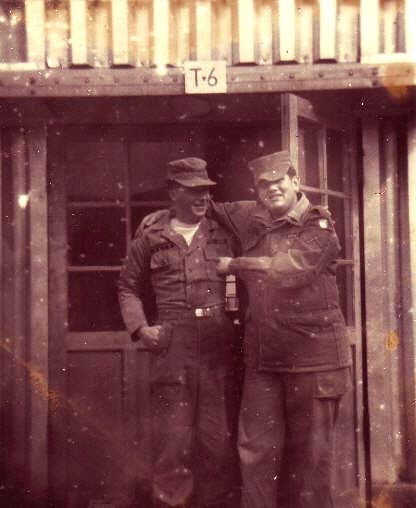 Kykendahl in the front and Elmore in the back. Me and Makepeace, he was a good ole southern boy.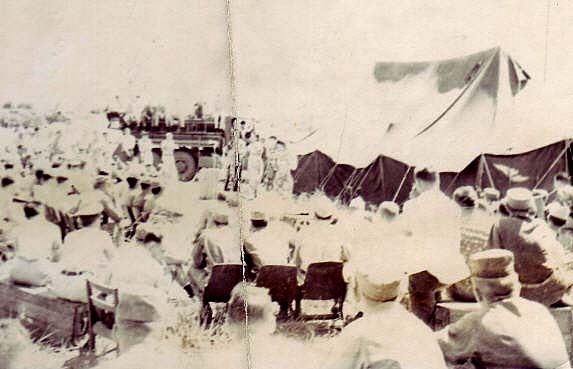 Getting on the bus to Taipei, notice the table with the two holes in it. They were used to wash up when we put metal bowls into the holes.
(Right) A USO show at Linkou for us. In that area we had a board painted white and movies were shown on the board...some screen, huh.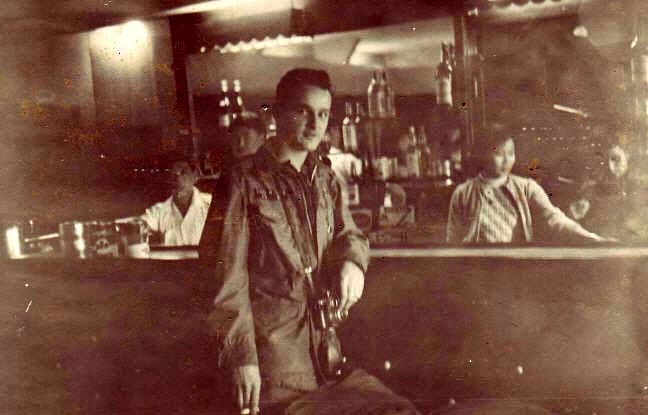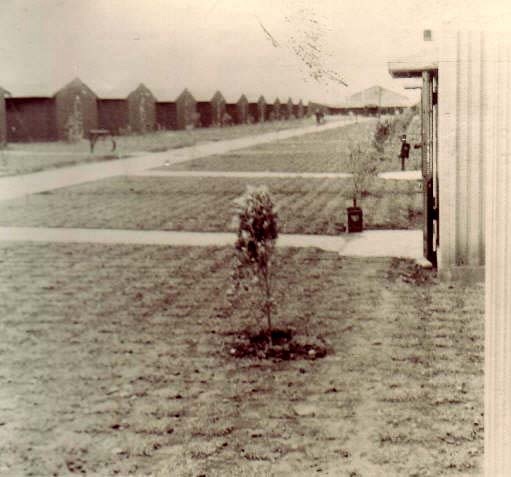 John Hyer at the bar in the Last Resort club. Front company street with mess hall at the end.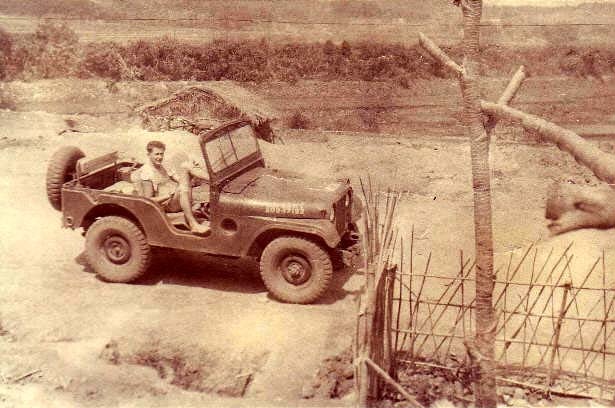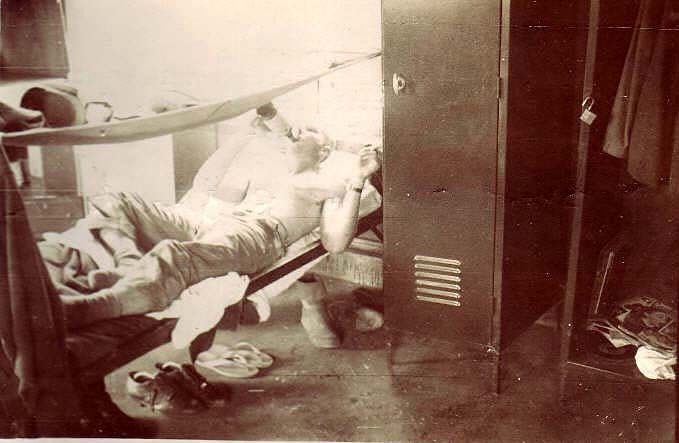 Frank Johnson, a real southern boy, waiting while I took a picture. We checked out a jeep from the motor pool, and went touring the beaches. Racked out is Joe Jenkins. He is clowning with my bottle of VO7. At the time I had that bottle for 13 months and was saving it for a special occasion. Discharge from the Army! Bottle also had my short timers ribbon around the neck. I tradition for all short-timers.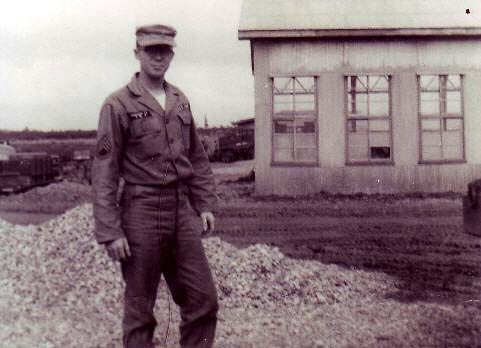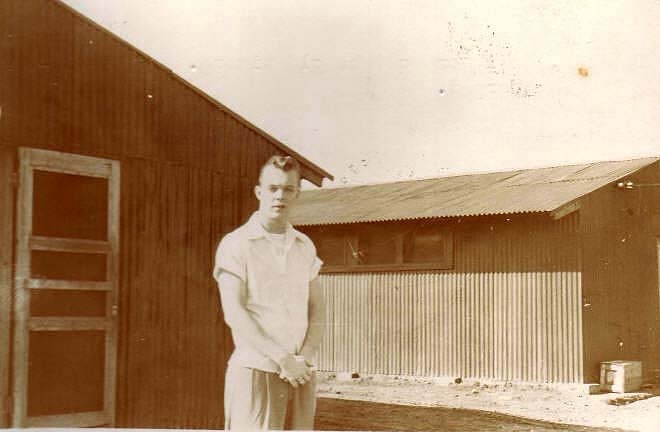 Standing in the construction rubble is my boss Sgt. Andersen. He was there early in my tour. Standing outside our barracks is Pete Ryan, He was one of the old timers. Shortly after this picture, he was discharged.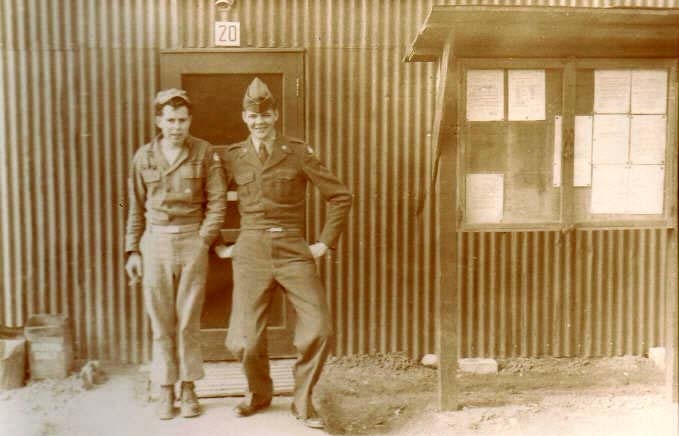 Photo of Kennedy and Elmore. They also went home and out of the Army from here.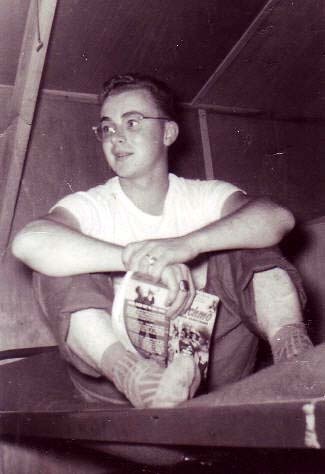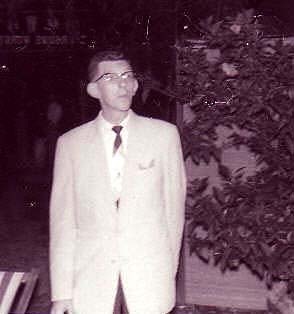 Sitting on the top bunk is Kay Hostettler. He went to school with me at Ft. Monmouth and we've been a long way together. From Fon Du Lac, Wisconsin if I remember right. In sport coat attire is Capt. Glouner our CO.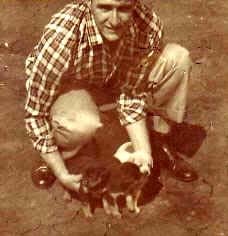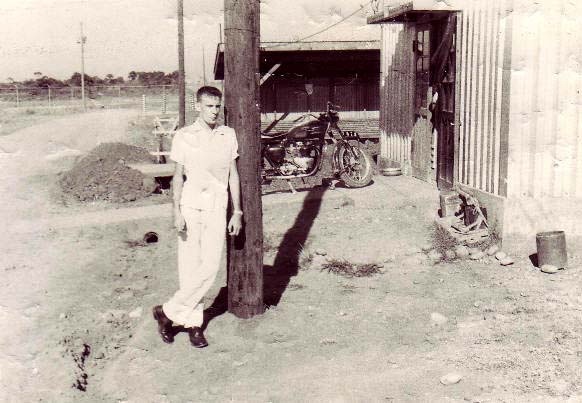 Joe Jenkins with some of our puppies. My old buddy Tony Breau leaning against the pole waiting for the bus to Taipei.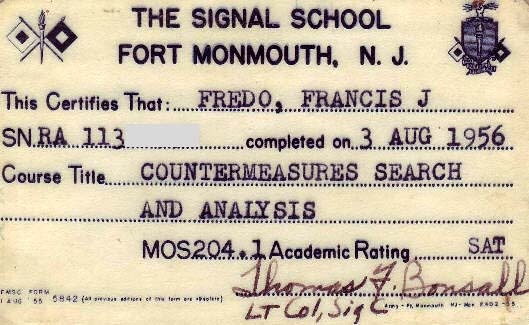 My laminated card that certified the training I received at Ft. Monmouth.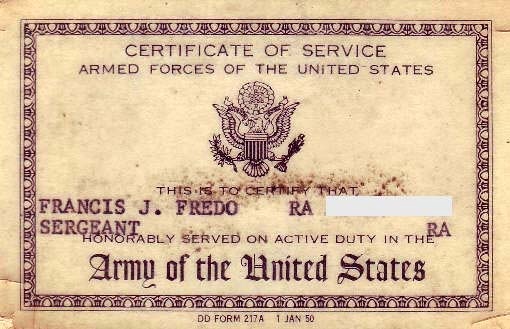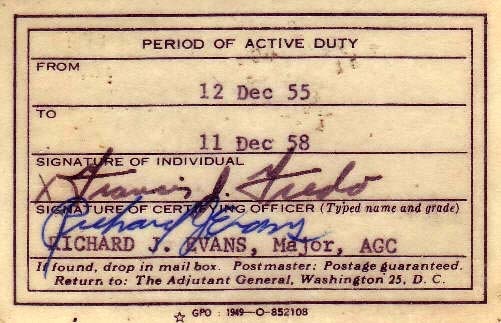 Certificate of Service showing the period of time I was in the U.S. Army.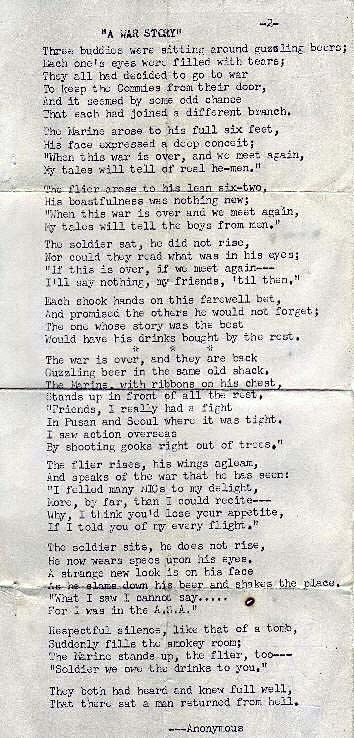 A poem that I came across that affirms that us guys in the ASA were mean fighting machines.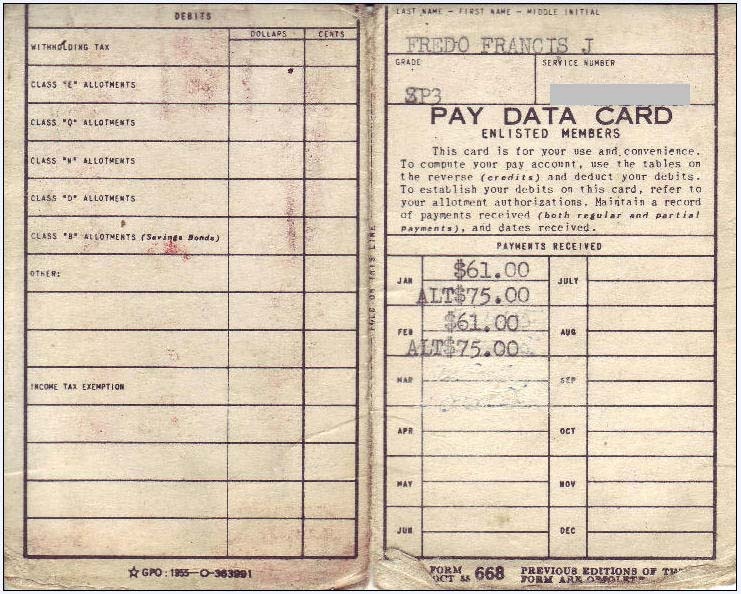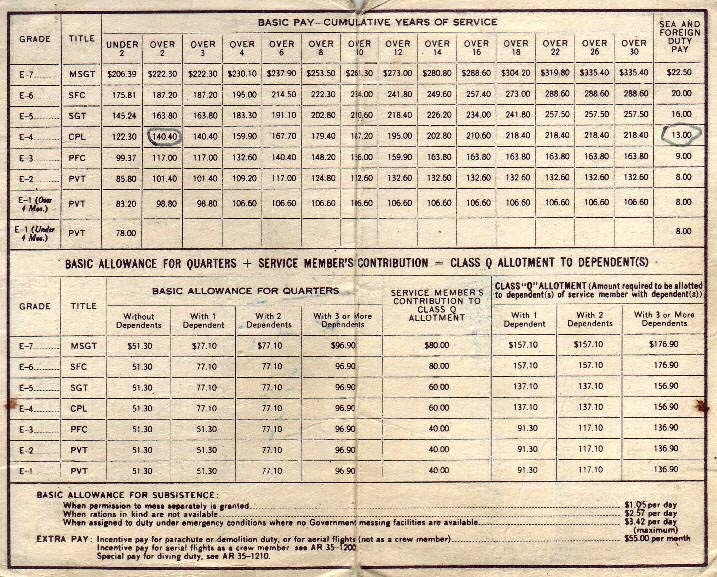 The pay card that I kept in my wallet which showed how much they paid me. The backside is the pay schedule. Boy were we rich!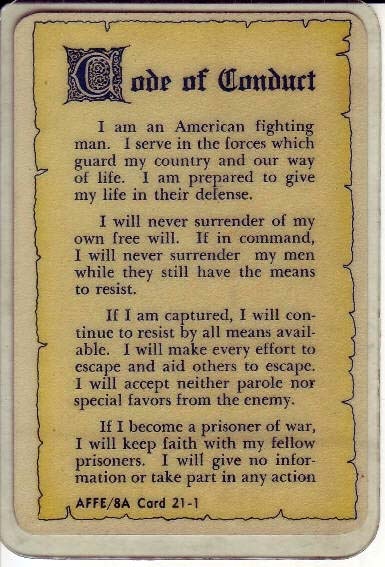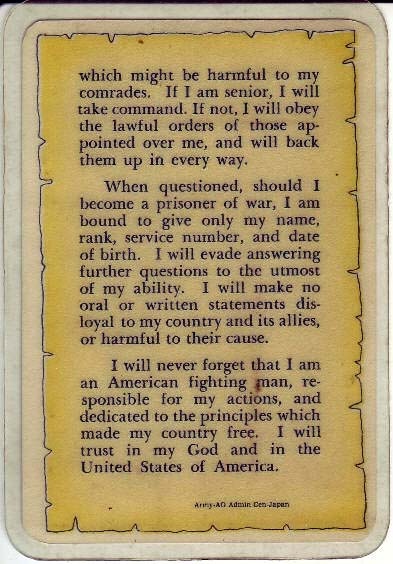 The Code of Conduct that we were all to keep on our person.
---
---